Cleopatra, Queen of Ancient Egypt, took baths in donkey milk to preserve her beauty and youth!
About 700 Donkeys were needed to provide enough milk for her daily bath.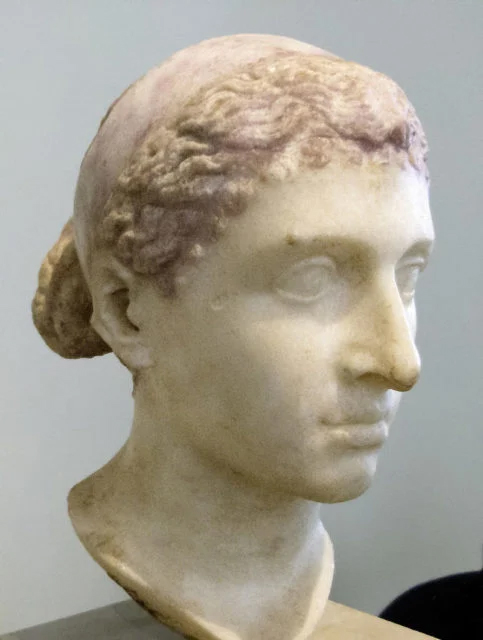 In the Ancient world, Cleopatra, Queen of Egypt was regarded as a great beauty. Plutarch remarked in the Life of Antony, "judging by the proofs which she had had before this of the effect of her beauty upon Caius Caesar and Gnaeus the son of Pompey, she had hopes that she would more easily bring Antony to her feet.
For Caesar and Pompey had known her when she was still a girl and inexperienced in affairs, but she was going to visit Antony at the very time when women have the most brilliant beauty."
Preserving that great beauty required great effort, and women from the ancient world utilized cosmetics made entirely from natural, though often rather questionable, ingredients. To preserve the vitality and beauty of her skin, it is said that Cleopatra regularly took baths in donkey milk.
Cleopatra was not the only one who enjoyed the benefits of the donkey milk baths; historic records show that donkey milk was often used as a treatment to revitalize the skin.
The Roman author Pliny, described the virtues of the donkey milk for the skin:
"It is generally believed that ass milk effaces wrinkles in the face, renders the skin more delicate, and preserves its whiteness : and it is a well-known fact, that some women are in the habit of washing their face with it seven times daily, strictly observing that number.
Poppaea, the wife of the Emperor Nero, was the first to practice this; indeed, she had sitting-baths, prepared solely with ass milk, for which purpose whole troops of she- asses used to attend her on her journeys."
It is also reported Napoleon's sister, Pauline Bonaparte, used ass milk for her skin's health care as well.
According to recent scientific studies, because of its components like minerals, vitamins, essential fatty acids, a bioactive enzyme, donkey milk is indeed beneficial for the skin.
Today, donkey milk is widely used in the manufacture of creams and soap.
Donkey milk can help children with milk allergies
In the hills outside Bologna in northern Italy a slightly peculiar farm has become the centre of a health experiment that harks back to the practices of ancient Greece and Rome.
The farm is home to 700 donkeys and produces donkey milk, a product that is creating a lot of interest among health professionals.
Donkey milk is proving to be a viable alternative for young children and infants in Italy who suffer from allergies to cows' milk.
More than 50% of what the farm produces is sold directly to paediatric units in the region. Dr Giovanna Monti, a paediatrician at the head of the allergy unit at Turin's St Anna hospital, has been studying the effects of donkey milk on babies and children since 2004.
"We use this milk mostly for children who are allergic to certain proteins in cows' milk," she told the BBC World Service's Health Check programme. "These proteins are often also present in formulated milk too."
"This milk is very similar to human milk" Dr Monti explains, and it has many benefits. 
With a low saturated fat content and high levels of omega three and six – the nutrients found in oily fish – it can help lower cholesterol.
It also has high levels of calcium – especially important for young children – and contains the enzyme Lysozeme, which is anti-bacterial and can protect against intestinal infections.
Though it doesn't have enough calories to feed a newborn baby alone, Dr Monti expects it will be easily made into a formula substitute in the near future. Allergies are currently on the rise in industrialised countries and lactose intolerance is especially high in southern Europe and Italy in particular.
While goat and sheep's milk have been traditional alternatives, they cannot be used in about 90% of cases of cows' milk allergies because the allergens are the same. Soya milk has also been a common alternative but soy allergies are also rising among the children, so Dr Monti and her colleagues have naturally veered towards donkeys.
The use of donkey milk is far from a modern fad. As long ago as 460BC "the father of medicine", Hippocrates, proscribed the nectar of the beast of burden for anything from snake bites to nosebleeds.
Ancient Greeks were said to feed it to their children, while stories from the time of the Romans tell of donkey milk being used as a cosmetic to soften the skin.
Legend has it that Cleopatra also bathed in asses milk to enhance her beauty. Up until the 19th century in the UK, donkey milk was widely sold as an alternative to breast milk.
However, donkey milk is not that easy to produce, as Davide Borghi, who runs the donkey farm on the hills of Montebaducco, explains. "Cows have been bred to be milk producing machines" he says, "but donkeys have never been bred that way so it's much more difficult for them to produce lots of milk."
A donkey only has two teats, rather than a cow's four, and milking only produces about a litre a day per animal – a cow can produce more than 10 times that. What's more, a donkey can only be milked for about six months after producing a foal, and even then only when the foal is close by.
Borghi acknowledges that these limitations mean donkey milk is likely to remain a niche health product. "We're not trying to substitute cows' milk, it's just an alternative for children who are allergic."
Is donkey milk the next big thing?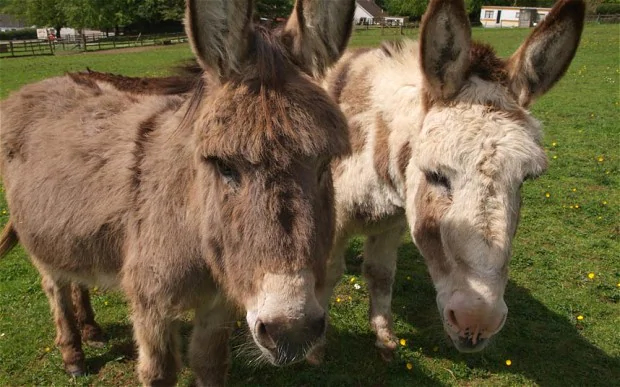 Cleopatra bathed every day in asses' milk, and Pope Francis said he thrived on it as a baby. Now remarkable results are being reported in people with asthma, eczema and psoriasis who drink it or use soap made from it.
Few Nativity scenes come without an ass helping keep the Baby Jesus snug in his manger. But who knew that asses (donkeys) have health benefits too. Asses' milk was, of course, hailed as an elixir by the ancients and favoured by Cleopatra for daily bathing but there is now renewed interest in it after Pope Francis revealed he was fed such milk as a baby.
Rich in lactose and low in fat, donkey milk is said by experts to be the closest animal milk to the human variety. The UN's Food and Agriculture Organisation says it has "particular nutritional benefits", with a protein profile that may make it more suitable for those allergic to cow's milk.
I first learned of the milk's growing reputation in a tourist gift shop in Paphos, Cyprus, last month, where bars of donkey milk soap, liqueur, chocolate and cosmetics were on sale. I was particularly intrigued by the assistant's account of a Dutch customer who snapped up 15 bars of soap, declaring they were the best relief for his psoriasis. For the past 15 years I've regularly suffered bouts of itchy, flaky inflamed skin under my beard and eyebrows. I suspect it's psoriasis although it has never been properly diagnosed and this year, it has been even more aggressive. I was sceptical about whether donkey milk could help but nonetheless purchased some bars of soap.
I also visited the shop's supplier in the picturesque village of Skarinou where Cyprus's biggest donkey milk farm is located. Its owner, Pieris Georgiadis, who drinks the milk daily in its unpasteurised form, was frantically busy, the farm shop bustling with health-conscious British, Russian and German tourists, as well as two elderly nuns, buying a weekly supply of fresh milk for their convent.
Dr Photis Papademas, a lecturer in dairy science at the Cyprus University of Technology, has been interviewing people who've been drinking the milk from this farm regularly and says they report "remarkable results", especially among children with asthma, eczema and other skin conditions. Donkey's milk contains anti-bacterial enzymes and anti-allergens, he says; scientific research papers on its potential benefits for allergies and skin complaints have multiplied in the past three years. "The milk looks promising although as a scientist I'm always cautious and we need clinical studies."
Mr Georgiadis mostly supplies the milk in 150 ml bottles that sell for €6 (£4.75). He recommends drinking just 60 ml a day, which costs a bit less than a pint of beer. I try a sample. It's reassuringly odourless and looks and tastes like skimmed cow's milk, although a tad sweeter. Like humans, donkeys have a single stomach: their "monogastric" digestive systems mean their milk is very different to that of other multi-stomached ruminants such as cows, whose milk contains a high bacterial load.
British aficionados can buy donkey milk products such as soaps, moisturisers and creams online. These come mainly from a French company supplied by a Swiss-Italian firm that also produces powdered donkey milk formula for babies and children allergic to cow and soy milks. Back home I lather on the donkey milk soap.
The itchiness under my beard disappears within an hour. Three weeks on there's no recurrence. The soap seems to help my brother's eczema, too.
It benefits may not be proven clinically, but I'm a convert and I'll definitely be washing down the pudding this Christmas with a few shots of donkey milk liqueur. It tastes just like Baileys.
Pope's penchant for DONKEY milk: Francis admits he drank it as a baby – after being presented with two of the animals for Christmas
Pope was given donkeys Thea and Noah by a donkey farming cooperative
Upon receiving the animals, he revealed he was fed donkey milk as a baby
He said it was because his mother could not produce enough of her own
Scientists interest in asses' milk is growing for its similarities human milk
Donkeys will go to live at the pope's farm at his summer palace near Rome
Asses' milk became the ultimate symbol of luxury when Cleopatra bathed in it to keep her skin soft. And now the famously frugal Pope Francis has revealed that he too is an aficionado of donkey milk.
Francis was presented with the two donkeys, named Thea and Noah, as an unusual early Christmas present, by a company that produces donkey milk for babies that are allergic to other milks.
After thanking Pierluigi Christophe Orunesu, of donkey farming cooperative Eurolactis Italia, for the curious gift, a delighted Francis revealed that he too as a baby was fed donkey milk.
Mr Orunesu said the pope was 'very happy'. 'I told him he will have two friends for life,' he told Dairy Reporter website. 'Pope Francis told me that his mother regularly gave him donkey's milk where she could not provide enough breast milk or later on when he was a child,' he said.
The company also donated 21 gallons of donkey's milk to the pediatric hospital in Rome. 
Scientists are becoming increasingly interested in asses' milk for its similarities to human mothers' milk.

Its proteins are easier to digest than cows' milk and it contains less harmful fats present in other milks, the farmers claim. It can be given increasing number of children who are allergic to the proteins in traditional milks.
The donkeys will now go to live at the pope's farm at the papal summer palace of Castel Gandolfo 30 miles outside Rome.
The company said in a statement 'This gift of two very friendly young donkeys, Thea and Noah, is less surprising than it might first seem; the Holy Father chose to take the forename of Saint Francis of Assisi, who considered animals to be God's living creations and elevated them to the status of brothers to mankind.
'The donkey also holds a prominent place in the bible. This was the animal that kept Jesus warm in his manger in Bethlehem.'
Two years ago Pope Benedict claimed that donkeys were not part of the Nativity.
He wrote in his book about the childhood of Jesus that the presence of animals like cattle and donkeys in traditional Nativity scenes is based on little more than a myth and was probably inspired by pre-Christian traditions.
'There is no mention of animals in the Gospels,' he wrote. Francis has said that animals do, after all, go to heaven. In his weekly audience in St Peter's, last week Francis quoted the apostle Paul who comforted a child who was crying after his dog died.
'One day we will see our animals again in eternity of Christ', Francis quoted Paul as saying. The Pope added: 'Paradise is open to all God's creatures.' His position is markedly different from that of Pope Benedict XVI said that the other animals 'are not called to the eternal life'.