Based in Foxfield Co. Leitrim, 12 Quail Farm is a family business which started producing high-quality quail eggs in July 2013 with just 12 quails. Today the farm has around 700 quails and 4 quail breeds, supplying retail outlets and restaurants in twelve counties in the Republic of Ireland and Northern Ireland with quail eggs and whole quails.
Quail is a small bird producing eggs and meat and one of our goals is to raise awareness of these health benefits.
We also keep some Silver Spangled Appenzeller Spitzhauben chickens as pets. More about that in our blog.

Tiina is a native Estonian, about 10 years ago she came to Ireland to have some time off from intense career life. Positions she held in Estonia include being a Senior Specialist in Public Relations and Personnel Department in Port of Tallinn and Managing Director of a Dental Studio. After few years working in Dublin being responsible for logistics in Nightline Ltd., she decided to stay longer in Ireland and moved to Foxfield near Carrick-on-Shannon where she bought a house and worked till 2010 in MBNA (The Bank of America) as a UK Customer Service clerk for credit card related issues.
A combination of beautiful landscape, healthy lifestyle and the opportunity to self-sustain oneself were the motivation for her to try out farming. Currently she is responsible for hatching and raising quails, looking after the whole flock, packing eggs, confirming deliveries and contacting potential clients and possible partners, outsourcing and participating in events where 12 Quail Farm eggs are served or exhibited nationwide e.g. Taste of Fenagh (Fenagh Visitor Centre, 2013), Taste of Europe (EU House Dublin, 2014), Essence of Design Conference (The Dock, Carrick-on-Shannon, 2015).
Tiina's daughter Liisa spent few months around 2000 in Gorey and a year in Tullamore working random jobs to save up for school in Estonia. She has also spent a year in USA to complete internship for business degree and worked in all Nordic countries while she was employed by Swedish company SCA as a e-Business Manager. She has also held the position of an Expansion Manager for a social network company and Project Manager and Information Security Expert for Estonian government during her Cyber Security Master studies.
She moved to Ireland to live and work with her mom in 2014. Currently she is building and maintaining websites and is responsible for 12 Quail Farm's finances, logistics, marketing, online activities, the client list and farm's facilities.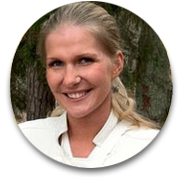 Ingrid is also Tiina's daughter. She has composed most of 12 Quail Farm's recipes but isn't actively involved with farm's daily life. Since 2014 she is living in Miami, creating her jewelry line (Bellissima Facebook and Bellissima Jewelry homepage) and testing recipes for 12 Quail Farm.